Use Social Media to Improve SEO
---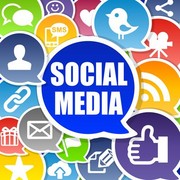 ---
How tweeting can improve search engine optimization (SEO)
Social media? Yes, social media. Many organizations may be reluctant to delve into social media because it'™s hard to justify the time spent on it and quantify audience impact. They may also think there is a risk of being associated with controversial or negative posts.
However, more and more people are finding valuable content through social media outlets. (Check out BuzzFeed's report on social sharing in this past year.)
If you've developed a great website, incorporated key words to improve search results or even started a blog, the best way to push your content out is to harness social media.
But before you rush to sign up for an Instagram account, do some research to determine which social media outlets will reach your target audience. With so many social media platforms to choose from and many more added daily, this might seem to be an overwhelming task. (Read how social media impacts SEO by Google Analytics.)
Try SocialMedia Examiner's Resource Guide to help you get started. Start out small with a couple of outlets and add more as you get more comfortable using social media.
Here are some ideas on how to use social media to improve your site'™s SEO:
Create great online content Although covered in a previous blog post, this statement bears repeating. Write articles that answer questions, provide useful tips or resources and offer strong visuals like photos, infographics or videos. This will attract visitors to your website when linked on social media.
Use keywords in posts Keep in mind the words and phrases your audience is seeking when using search engines like Google or Bing and use them in social media posts as well. If you are on Twitter, take the time to research relevant #hashtags to give your tweet a longer shelf life and broader reach.
Use a URL shortener Some social media, like Twitter, limit the amount of characters you can post. Having concise posts are also beneficial on other forms of social media like LinkedIn or Facebook. A shortened URL will help save valuable space. By using a free service like HootSuite or Bit.ly you can manage multiple social media accounts on one dashboard, and can also track the number of clicks on your links.
Have a response action plan To raise the comfort level of those who may need more convincing, develop an action plan to respond to posts - both "positive or negative. This will require monitoring posts so that you or your team can respond quickly. Engaging with your followers is a great way to increase the viral reach of your posts, and a quick, sincere response to criticism bolsters your organization'™s credibility. Plus, it lets your audience know that you take their concerns seriously.
Share other people's content Don't feel like you have to develop new content for every post. The beauty of social media is sharing content. Find other credible posters you value and share their content. There is always a chance they will return the favor, plus you will become a savvy, reliable resource for your followers.
Combining the use of social media with great content and keywords will help your organization see higher traffic rates to your website.

Editor's Note: This is the fourth of a four part series on how to increase web traffic.
Previous posts:

Not yet a client and want to learn more about SOCS? Contact us today for a free demo.