How to Post Quality Online Images
---
---
Nothing makes a website more dynamic than compelling images. A quality photograph will capture your reader's attention and help them decide whether your content is worth reading.
Kristin Magette learned this lesson early. As the Communications Director of Eudora Public Schools, Magette started her tenure at Eudora in 2006 with the mindset to make a good first impression with all school website visitors. She works hard to ensure that the photographs used on the school website are top quality. More important, however, is authenticity. All photos published on Eudora's website are original pictures of the school or community.
"Stock photography doesn'™t work", said Magette. "[The community] wants to see people and places that make your website recognizably local. Otherwise it chips away at your credibility."
Over the years, Magette has built up a sizeable library of quality photos. How did she do it? "I have a partnership with the photo journalism teacher who sends me students to take the pictures," she explained."œIt's a great experience for them."
Kristin uses a professional client-contractor model for assigning photography jobs. She meets with the student photographer to define the job parameters. Once the photos are taken, she conducts a debriefing session with the student, has them filter out the unusable images and provides the naming convention for photos so they are easily found in files.
The real value comes in having files of photos at the ready. "When I need to do a story about the cafeteria menus, I have a dozen or more pictures of kids in the cafeteria, eating lunch, choosing items in the lunch line, checking out with a smiling food service worker." Having a stock pile of photos means articles can be posted on tight deadlines with an interesting image.
"This is a doable thing in every organization," said Magette. "œEvery community has someone who enjoys taking photos."
Editing Your Photos, for Free
But don't forget, taking photos is only part of the equation. They also need to be cropped and sized correctly for optimum impact. Here are 3 free online photo-editing tools to make sure your quality photos are presented well:
---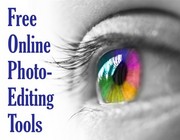 © Delphimages - Fotolia.com
---
FotoFlexer will let you upload photos right from your desktop, PhotoBucket, Facebook, Picassa, Flickr or other photo sharing sites. A good site for beginners it enables you to add stamps and text, edit the image, and do some special effects.

PicMonkey has wonderfully intuitive photo editing tools. You can try some of their creative textures or upload one of your own. Once your image is edited you can easily download it to your desktop.

Pixlr offers three photo-editing levels. Those familiar with Photoshop will like the advanced level as it offers layers, filters and tools similar to the Adobe software. It will also allow you to be precise down to the pixel.

These days, having quality images on websites doesn't require a graphic artist or programmer. All the tools above offer text editing, easy image upload and basic photo editing tools. By capturing authentic, original quality photos, and by employing these useful online tools, your site will really pop - and draw in a larger audience.

Do you find your website compelling? Maybe it's time to learn more about what SOCS can do for you. Contact us today for a free demo.