If It Says 'Free', Is It Really?
---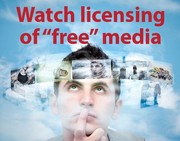 © silent_47 - Fotolia.com
---
What to consider when using online media sources
The use of images, videos and audio files are what make web posts more engaging. Finding and using œfree media sources without understanding how they are licensed, however, could get you into trouble. Sometimes there are strings attached.
This happened recently to one of our school clients. A teacher gave students a podcast assignment and recommended using music from a website that not only advertised free audio files for education, but had the word "free" in their name. Impressed with the students' work, the teacher posted the podcasts on the school website.
Three years later the podcasts, still on the website, were found by the audio source. A closer look at the license agreement revealed that the "free" audio files could not be published on a website or used outside of the school. As a result this source sent the school district a bill demanding $116,000 for past usage or $232,000 for unlimited use.
This is becoming increasingly prevalent as websites use more digital media. That's why it is important to always read the contract usage agreement, even if the media is marked as free.
What is NOT free?

That bank of images that displays in your image search on Google is NOT free. Many people make the mistake of downloading an image and reusing it on their website. Don'™t be tempted to do this. This also goes for images and videos you find on Pinterest or any other website. Just because it is on the web doesn'™t mean it is free for the taking.
Always ensure that you know the source from which you're getting your media and be sure that you have permission to repost the media at no charge.
Free Media Sources

Here are three sources that offer free content:
Open Clip Art Library

has their open use statement printed boldly on their front page. From cute cartoons to rendered illustrations, this source has great graphics that are free. They even offer online editing tools to alter the image to your specifications. However, do pay attention to usage agreements per graphic. There are some that have restrictions. Read about their

usage policy here

.

Stock.xchng

offers a library of photos and illustrations. Most of the artwork is free to use

(

standard restriction agreement

)

, but some artists and photographers require permission for use, so plan ahead. Their

permission use form is here

.

freedigitalphotos.net

provides stock photography and illustrations free to publish online, but requires a credit to the website and the contributor on the same page. See their

acknowledgment policy

here.
Online Media Sources for a Fee

Sometimes you just can'™t find exactly what you are looking for free. If your budget allows, consider these options for royalty-free media.
iStock

photos, vector illustrations, video and audio files are purchased by buying credits in bulk once you sign up for a free membership. What'™s great about iStock is they also offer a free photo once a week; and once a month they offer a free illustration, video, audio file and editorial-only photo.

Getty Images

offers amazing photos, illustrations, video and audio files, but their prices are higher and not all their photos are royalty free. But if you are looking for high-impact visual and audio content, this online provider delivers quality.

fotolia

is our new favorite royalty-free, buy-per-credit source. They offer quality photos, vector graphics, illustrations and video clips at a great value. Many contributors require a credit acknowledgment. Note how credit is given to the above image from fotolia.
Even when using royalty-free media, be sure to pay attention to use restrictions. Some artists and photographers require a credit posting. By paying attention to the fine print in copyright guidelines, you can avoid costly fees or litigation in the long run.
Not yet a SOCS client and want to learn more about starting your website? Contact us today for a free demo.
If It Says 'Free', Is It Really?
Daniel Johnson, Jr.

daniel@jazzmaniaproductions.com

Cincinnati OH USA

Instructor

Oct 11, 2012

This article intrigued me because I've done a lot of work over the past seven years with media. You set this up as a post about audio content but then switched to where you can get photos. What about audio content? As for me, one site I've often used in the past for it is http://musicalley.com . I think http://search.creativecommons.org is also useful for getting other media.

Stephanie Mackeprang

Oct 11, 2012

Great question, Daniel! iStock and Getty, although more widely known for photos and illustrations, offer a large library of royalty-free audio and video files. Thanks for your suggestions for audio sources! Of course, the main point of the article is to always check media use policies for ANY media purchased online.