HACKED!
How one school district recovered
Just the idea of the district's school website being targeted by hackers is enough to churn any administrator's stomach.
Add to that anxiety the prospect of losing all your website's content right before the school year begins, and you have Bellevue Public Schools' very real nightmare.
"œWe were even blacklisted by Google as an infected website," said Communications Director Amanda Oliver.
As a suburb of Omaha, Nebraska, Bellevue Public Schools enrolls over 10,000 students attending 21 district school buildings. During the summer, the district battled countless attacks on their in-house school district website. Unfortunately the in-house IT staff didn't have the resources to ward off the attacks or track down the culprit.
The Road to Recovery

Bellevue Schools was in the primary stages of making the switch from their in-house website to SOCS when their site was initially hacked. While in the process of mapping out the content structure and planning the transition, their website became so corrupted that all content was inaccessible and the website was blacklisted as malevolent on Google.
That's when they turned to SOCS for help on ramping up the development of their new site.
"Julie (Clark, a SOCS Support representative) is wonderful," Amanda exclaimed. "She is an expert at SOCS and answered every email, every panicked phone call. She knew how to drill down on every nuance to put our website transition on the fast track."
Losing all their content, they worked in tandem with SOCS to recreate their district website in just seven days. The typical website launch, from site design to training completion, takes approximately 4-6 weeks.
"It was up so fast. It was seamless for the District. We are now trying to add content to support the district and each school building," said Amanda.
The Hackers Strike Again

As soon as the new website was live, the hackers struck again. Only this time, SOCS programmers took action, blocking the hackers from their destructive goal.
"Once the SOCS team saw it happening, they were able to keep them from hacking our site again," Amanda explained. "What a wonderful component to have people trained in that area."
Provided by the Foundation for Educational Services, SOCS reaps the benefits of the knowledge gained from building a highly secure network to serve an affiliate company that must meet government security standards.
"That is what is so great about working with SOCS. We have a team helping us. We aren't doing it alone," Amanda explained. "The resources are not available at the district level to help us do all that we want to accomplish."
---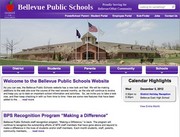 www.bellevuepublicschools.org
---
The Bellevue District website went live in August, and the Bellevue district website continues to maintain the public face of their schools online. Currently, Amanda and other district staff members are receiving training and working diligently to create content to represent each school on their website. Fortunately, the district IT department was able to extract some of the original site's raw content to ease the burden of transition.
In-House vs. Hosted

Still think maintaining an in-house website is free? Read our flyer to learn more about cost comparisons.Then contact us today for a free demonstration of SOCS. Let SOCS professional design, support and security help you create a dynamic online presence.