The Results Are In!
---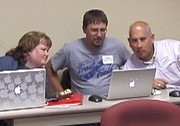 Phyllis Severson, Jordan Marr, and Paul Sheffield from Exeter-Milligan Public Schools at the User Group meeting in Lincoln October 2012.
---
Fall User Groups 2012
Each spring and fall, SOCS conducts User Group Meetings across our footprint. During these sessions, the SOCS Client Support Team meets with our patrons face-to-face, leading hands-on training classes and providing news on SOCS enhancements.
These day-long training classes are provided to SOCS users free of charge, and offer a unique opportunity for SOCS users to familiarize themselves with the system and learn new tricks to make their site look fantastic.
Thanks to our participants, our 2012 Fall User Groups were a success. With over 130 participants spanning five cities*, we had the chance to gather insightful feedback from our patrons on how SOCS works best for various schools and municipalities, and what changes or enhancements clients would like to see from SOCS in the future. On our end-of-session evaluation surveys, a common theme or two appeared:
Mobile Capabilities
With ever-increasing usage of smartphones and tablets, we heard our patrons loud and clear: mobile is where it'™s at. 71% of our survey respondents reported tablet or mobile devices already in use at their school or municipality. Whether your organization already uses tablets and mobile devices, or it's on your wish list for the near future, our updated SOCS mobile capabilities are available as of December 2012, so you're good to go. Click here to see more, and learn how your site can communicate to your audience as they're on-the-go.
We are humbled by the positive feedback we received from many participants regarding the SOCS Client Support Team. Thank you! We€'re truly grateful for your business, and are always happy to help you find answers to your questions, or to share a quick trick or two to make your SOCS site work best for you. Here are a few of our favorite shout-outs:
"Super support (five stars!!)"" Amanda Ganser, Ainsworth Community Schools
"Many options, excellent software, always there and helpful. I'd recommend SOCS to anyone!" Kent Kechter, St. Francis Community Schools
"SOCS has the greatest support staff!" Brenda Breth, Oberlin USD 294
Keep an eye out - our Spring User Groups locations are currently being finalized and will be open for registration in early 2013. We hope to see you and your colleagues for a training session, as we bring you updates, enhancements and work diligently to continue improving your experience with SOCS.
Not yet a client, but you'd like to learn more? Click here to find out how SOCS can help your hospital, school or municipality create a professional, easy-to-maintain website to meet all your communication needs.
---
* Fall 2012 User Groups were conducted in: Lincoln, NE; O'Neill, NE; Oakley, KS; Lubbock, TX; San Antonio, TX and Johnston, IA