Count your Blessings, Share your Joy
Happy Holidays from FES
The holidays are here, and with weeks of busy prep work complete, we'd like to encourage a moment of pause to appreciate the many blessings surrounding you. The joy of exchanging heartfelt, meaningful and sought-after gifts with people you love create memories that last a lifetime.
Unfortunately for many families, this version of the holidays isn't a reality. Sometimes just having basic needs covered is a blessing, and the extra demands of the holiday season can be a burden to a family struggling to get by.
---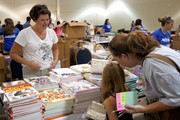 Faith Hansen helps her daughter Kori choose a book to take home.
---
Earlier this autumn, Foundation for Educational Services (FES) provided the grant to supply over 3,600 reading books to students in need. Every year before school starts, the

Center for People in Need

puts on the Tools for Education event to offer school supplies to poverty-level students in Lancaster County, Nebraska. For a second year, FES provided the grant to fulfill the entire book order for the back-to-school event and their Christmas gift exchange in December.
"Poverty adds a lot of stress for students, and for the parents as well," said Beatty Brasch, Executive Director for the Center for People in Need. "We try to provide their basic needs and help them get access to other area resources." Brasch explained that one in five Lancaster County families earn a combined income of less than $18,000 a year. A quarter of those families live on $5,000 or less a year, and eight percent are homeless.
"For families with no discretionary income, we feel it is important that each child receives a new book," said Brasch. And she's right on. According to non-profit Reading is Fundamental, nearly two thirds of low-income families do not own children's books, leading to lower reading comprehension, and a generally bleaker outlook for these children as they move into adulthood. Nonprofits like Tools for Education provide simple ways for folks to get involved and lend a neighborly hand.
So a very Happy Holidays to you and yours. Take a moment to count your blessings, but we'd like to remind you not to forget to share the love that's part of the joy of the holiday season.