Give Your Community Reasons to Engage
How non-profits inspire change via social media
When marketers first realized social media'™s potential, they scrambled to establish a social media presence for their brand or organization. However, as social media gains momentum, we now know it'™s not enough to simply have a presence in social channels. You must use your social channels to invite participation by offering an enriching experience.
While it is easier to rally people behind an overall cause for your non-profit, you still need to provide a reason to participate with your brand online. Plus you need to motivate your readers to act and share their passion for your cause with others.
Starting a Movement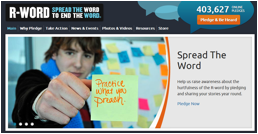 Inspiring supporters to participate in your movement is the same for large, well-known non-profit brands and smaller, local organizations. The Special Olympics, for example, has been very successful in building awareness and increasing donations through social media integration.
In their "œSpread the Word to End the Word" campaign, participation was achieved not only in raising awareness, but by giving people a specific action in the form of a pledge allowing them to take part in an honorable movement.
Their success was achieved on a national level. However, local organizations can also achieve impact by tapping into the causes that provoke empathy.
How One Local Non-Profit Made a Big Impact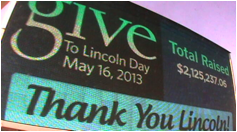 Community non-profit organizations in Lincoln, Nebraska recently saw this principle at work as they benefited from a citywide initiative that raised over $2 million in 24 hours.Give to Lincoln Day was held on May 16 and was spear-headed by the Lincoln Community Foundation (LCF).
This year's annual event drew 253 non-profit participants with the premise that residents had one day to donate any amount online or offline. LCF commissioned Razoo, a fundraising platform that offers fund tracking, social tools and mobile access, to manage the online donations. The added incentive of matching funds fueled a healthy competition between non-profits for donations that was tracked by the Razoo leaderboard.
Using tracking tools, LCF reported an average online gift of $96 and participating non-profits reported an increase of 50 percent to their donor lists.
This event, like the Special Olympics example, found success because it created a reason to rally a base of fans and invite others to participate in a cause that they may not normally have in mind.
LCF, along with other participating organizations, worked to reach the community through social media in addition to the traditional direct mail, radio, print ads and billboards.
Once social media momentum began building, for-profit businesses and individuals began using emerging social media to spread the message even further. Click on the photo galleries to see more social media examples.
Is this possible with your organization?
Inspiring people into social participation lies deep within your organization'™s purpose and mission. Your non-profit is both the catalyst that inspires change and the avenue for your supports to foster it. Give people a reason to feel passionate about your cause and then build your campaign around that idea. Social momentum will build upon itself when you tap into emotions that can start a conversation.
SOCS is a non-profit organization that provides online communication services for non-profits. Join us in celebrating 10 years of helping hundreds of non-profits connect with community members and supporters online. Contact us to learn more.