5 Guidelines to Storytelling for Nonprofits
Once upon a time, you were part of an organization with a compelling mission, and you needed to get your story out to the masses. But this isn't a fairy tale, it's the Internet. In this fast-paced, one -click online world, your audience is often already overloaded with information. So how do you get attention, and how do you make sure that your organization'™s voice and sincere purpose is heard loud and clear?
How should your nonprofit tell their story?
Keep it Short
You ha™ve heard it before -" brevity is the soul of wit. Get your message across quickly, and make it pop, or you may lose your audience'™s attention. You want a tight, concise narrative that embodies your purpose, leaving your audience eager to learn more and contribute time or funds to the cause.
Highlight the Facts
Infuse your content with information by providing compelling statistics that support your nonprofit'™s mission. Your readers want to know where their efforts are helping, plus relaying results adds credibility to your organization by providing transparency. œIn 2012, staff and volunteers at The Food Bank of Lincoln, NE provided more than 7.4 million meals to needy and underserved families in the community. Now, that'™s real measurable progress -- don'™t you want to find out how you can help the cause?
Make it Genuine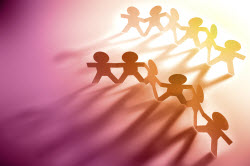 Your clients, volunteers and employees can tell their stories better than any actor. So let them share their experience with your organization in their own words. Resist the urge to revise or polish the language in your stories too much. Basic spelling and punctuation corrections or editing for length are fine -- and are recommended -- but don'™t overdo it. You want an unscripted, authentic perspective from an actual person. Strive to use real people, real names, and true experiences.
Show, Don'™t Tell
Video. Need we say more? There is something about using media to add an additional element to a story that evokes a visceral reaction in the listener. That is, it gets the reader in the gut. Witnessing emotion in the eyes of the storyteller, hearing their voice break or rise with hope as they voice their experiences has a real effect on the listener. These are all human connection points. And that'™s the point, right?
Engage Through Emotion
Your nonprofit'™s purpose is important, so allow your audience to really feel it. We'™re talking about hitting them right in the heartstrings -" sadness, nostalgia, righteous anger, a sense of community pride. Emotion will engage your audience and inspire passion for your unique mission and cause. You want to make readers feel as if you'™re giving them the opportunity to be a part of your movement - and they can easily take steps to do so.
Whether your purpose is to broadcast your nonprofit'™s mission, find new volunteers, or cultivate repeat supporters, a great story told well has a way of sticking with you far past the recitation. And it can make all the difference when it comes to your organization'™s success.
_____________
SOCS is dedicated to improving the online needs of other nonprofits. Our mission is to create quality connections with these organizations and the communities they serve. Join us in celebrating 10 years of helping hundreds of nonprofits connect with community members and supporters online. Contact us to learn more.

About the Author

Jessie Barth is our SOCS Blog Editor. Over the last decade, Jessie's project management skills, client support expertise and creative work created opportunities in Chicago and Portland, Oregon before bringing her back to her home base in Lincoln. Her copywriting work has been featured in various industry campaigns across the nation.
Jessie received her BAs in English and Women's Studies from the University of Nebraska-Lincoln, and has a penchant for creative endeavors, specializing in social media strategy, knowledge of current trends and pop-culture, and creating authentic brand experiences for clients. In her spare time, she enjoys cuddling with her rescue puppy and indoor alley cat.