Web Marketing Trends for 2014
Every year around this time, organizations regroup to reflect on the wake of the previous year and to speculate on growth possibilities for the coming year. In this exciting era of technology and rapidly changing trends, here are a few items to watch for in 2014.
The Website is King
Sure, content is still king, but the content needs to reside somewhere. Targeted, relevant content written to bring value to the reader will drive more traffic to your website. But a well-written article isn't enough to keep them there. It needs to be a part of an overall web-presence strategy.
Web design trends are favoring clean, easy-to-navigate designs—they just look more professional. They exude confidence, stability and trustworthiness. Couple a well-designed website with strong, compelling content and you have a winning combination—a destination that will draw visitors back.
The Year of the Hand-Held
Hand-held devices will drive web-development business decisions this year. Responsive web design, apps and the ability to interact while being mobile will win over your target audience. Pew's latest cell phone research reports 63% of adults use their cell phones to go online and 21% do most of their online browsing on their phone. These numbers haven't plateaued; in fact, they will continue to climb. Even if you already offer a mobile-friendly website, you should continue to look for ways to keep your mobile audience engaged.
Social Strategy vs. Social Presence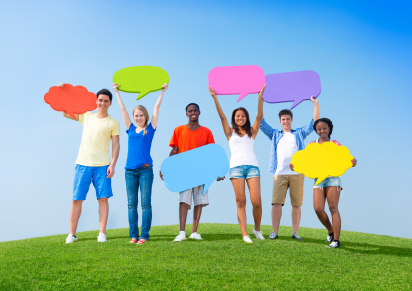 Most organizations understand the value of social media. It has a low investment with a high rate of return—if done strategically. Gone are the days of just posting, "Happy Valentine's Day from XYZ". Posts need to bring value to the organization and the audience. Keep an eye out this year as organizations increasingly use social to drive overall campaign strategies.
What's the main strategy? Engagement! Whether it is likes, shares or comments you're after, this will be the year to implement new ideas. This may mean experimenting with trending social sites to reach a younger audience or to refine strategies for established ones by getting more creative when driving engagement. Of course, you will want to be sure your messages link back to your website which should act as a hub for all of your online content.
Analytics to Measure it All
If you aren't measuring data on your web and social presence, start today! You need to have a benchmark to track your progress and plan for future campaigns.
At SOCS, we measure our online efforts in two main categories—traffic and impressions. Traffic is fairly straight forward; we track site visits. But we also note new vs. returning visitors; direct, referral and search traffic; and devices: desktop vs. mobile. With impressions it becomes a little more complicated. We define impressions as each time anyone has an opportunity to view your message. That's where followers, shares, retweets and pins come into play. Did a news source pick up a press release? Did a news aggregator, like a targeted Paper.li include your tweet? We calculate their readership and shares and add that to impressions.
To help measure our efforts, we use free services like Google Analytics, HootSuite, and free analytics provided for company pages on Facebook and LinkedIn.
This time next year we will look back and, once again, be amazed at how far we have come and how much we learned. By taking advantage of the trends above, decisions you make in your overall online marketing strategy in 2014 will lead to bigger and better ideas in the years to come.
_________________
SOCS is dedicated to improving the online needs of other nonprofits. Our mission is to create quality connections with these organizations and the communities they serve. Join us in celebrating 10 years of helping hundreds of nonprofits connect with community members and supporters online. Contact us to learn more.
About the Author


Stephanie Mackeprang, who has over 25 years of corporate communication experience, has been providing public relations and marketing communication services for SOCS since its inception in 2003.