Warm Hearts and Toes
---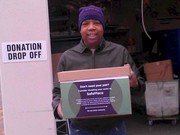 Sidney Davis, Donations Coordinator at SafePlace, braved an impending ice storm in order to accept SOCS' donation.
---
TCEA Attendees Donate SOCS Socks to Austin's SafePlace
On Friday February 7, SafePlace received 100 pairs of socks donated generously by conference attendees at the recent TCEA 2014 Convention and Exposition in Austin, Texas.
Playing off our company name, our representatives typically give away socks as a promotional item at our many conferences. These socks will now benefit survivors of domestic violence and their families, in addition to our donation of $100 to support SafePlace and their mission.
---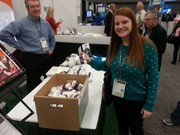 Our new friend Jenny from Deer Park ISD donates her SOCS socks to SafePlace.
---
"This year, we wanted to make a difference in the community of Austin," said Dan Kunzman, SOCS marketing vice president. "Texas has been hit hard this winter so we thought our socks could make more of an impact on a local nonprofit. As a nonprofit ourselves, we chose SafePlace because of their longstanding commitment to help those with great need within their community."
As a pillar of the Austin community for over 40 years, SafePlace helps survivors of sexual and domestic violence as they work to rebuild their lives away from their abuser.
"Every donation, no matter the size, is so appreciated. It's all about helping our clients," remarked Sidney Davis, Donations Coordinator at SafePlace.
Providing shelter, supplies, counseling sessions, 24-hour support, legal advocacy, case
---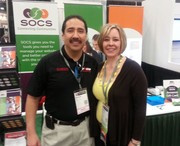 Dr. Ramiro Zuniga and teacher of the year Ms. Sabrina Ramirez of Port Arthur ISD visit the SOCS booth to drop their donation to SafePlace
---
management, and spearheading various awareness campaigns – SafePlace works tirelessly to improve lives of women and children within the Austin community. Learn more at
safeplace.org

.
"Conference attendees had a choice to keep their socks or donate them," said Jerry Martin, SOCS Texas Regional Account Manager. "The generosity of TCEA attendees has truly humbled us."
SOCS' focus is connecting communities, but this mantra goes beyond websites. SOCS representatives attend nearly 80 conferences across the nation each year, focusing on education, healthcare, municipalities, technology, and nonprofits.
As we travel, our team is committed to making a difference in the communities of our clients through good works. And there is always more good work to do. Stay tuned in 2014 to find out what else SOCS is up to in a community near you.
___________
SOCS is dedicated to improving the online needs of other nonprofits. Our mission is to create quality connections with these organizations and the communities they serve. Join us in celebrating 10 years of helping hundreds of nonprofits connect with community members and supporters online. Contact us to learn more.
About the Author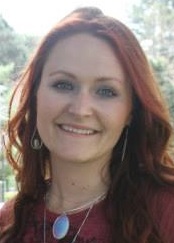 Jessie Barth is our SOCS Blog Editor. Her copywriting has been featured in industry campaigns across the nation. She received her BAs in English and Women's Studies from the University of Nebraska-Lincoln, and has a penchant for social media, pop-culture and travel. In her spare time, she enjoys cuddling with her rescue puppy and alley cat.