SOCS and SOCKTOBER 2014
---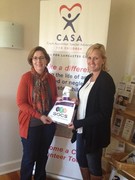 Our sock donation to CASA will benefit youth in Lincoln, Nebraska.
---
Helping Communities with Kid President
During the month of October, the SOCS team joined the Socktober movement. Socktober was the hugely successful national campaign created by internet-famous (and inscrutably adorable) YouTube web personality, Kid President.
Kid President reaches over one million viewers every week on YouTube, sharing motivational video pep talks that align with a sincere belief that: "…kids can change the world. We also believe grown-ups can change the world. It just takes all of us working together." Taking on everything from local causes to general calls to action around how to "be more awesome," Kid President's infectious optimism is a breath of fresh air.
During Socktober 2014, our Regional Account Managers Stacey Anderson, Mike Anderson and Jerry Martin got in on the good vibes. Each of our sales team members personally delivered 100 pairs of socks to a local charity of their choosing in their region.
Stacey stopped by CASA for Lancaster County to make her donation. Since 1999, Court Appointed Special Advocates (CASA) for Lancaster County has provided a voice for abused and neglected children in the court system so they can thrive in safe, permanent homes. Children served by CASA have a positive role model who helps them gain a voice, achieve safety and stability, and develop a sense of self-worth.
Hope Street Emergency Shelter in Minneapolis, Minnesota, was Mike's charity of choice. Hope Street provides short-term emergency shelter and intensive case management services for homeless youth and young adults, ages 16-20, who are escaping abusive living situations or street life. They strive to provide the basic needs such as food, shelter, clothing and medical care for the individuals that they serve.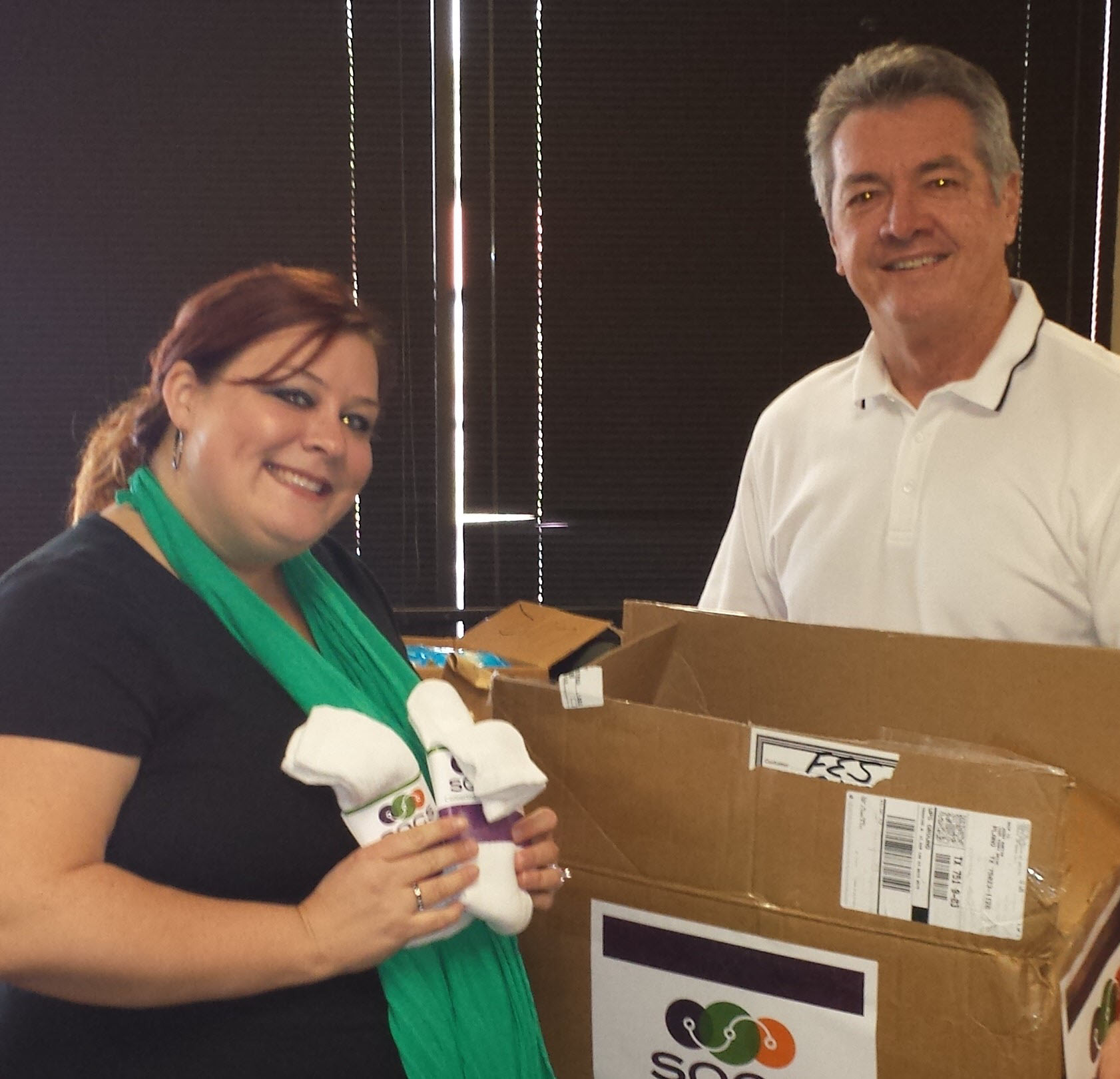 Jerry donated to Hope's Door in Plano, Texas, a shelter that supports survivors of domestic violence and their families. Open since 1989, Hope's Door responds to over 1,900 crisis hotline calls, shelters more than 400 women and children, houses over 50 families in transitional housing and provides counseling and legal advocacy to more than 1,300 survivors each year.
SOCS is committed not only to connecting communities, but to contributing to the success of those communities by doing good works to enrich the lives of residents. Our sales team regularly donates to local charities as they travel to regional conferences with our SOCS Drops, and by partnering with Kid President's brilliant existing Socktober campaign, we are proud to have contributed to these nonprofits and their worthy causes. Stay tuned as we look for more opportunities to connect in 2015 and beyond!
_____
SOCS is dedicated to improving the online needs of other nonprofits. Our mission is to create quality connections with these organizations and the communities they serve. Join us in celebrating 10 years of helping hundreds of nonprofits connect with community members and supporters online. Contact us to learn more.
About the Author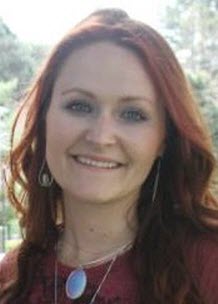 Jessie Barth is the SOCS Blog Editor and Content Marketing Coordinatior at FES. Her copywriting has been featured in industry campaigns across the nation. She received her BAs in English and Women's Studies from the University of Nebraska-Lincoln, and has a penchant for social media, pop-culture and travel. In her spare time, she enjoys cuddling with her rescue puppy and alley cat.