Meeting Registration
---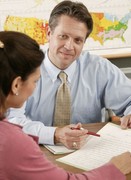 Manage parent-teacher conference registration online using SOCS.
---
SOCS created a hassle-free way to manage meeting registration which is ideal for parent-teacher conferences. Set up is easy. Staff members can quickly make their own schedule.
Online, visitors can easily see staff member availability. Once signed up, visitors will see an itemized list of dates and times that can be printed for future reference. They can also receive email appointment reminders.
Global Administrator manages setup
Add organization information and schedules

Set default dates, schedule times and length of appointments for all staff members

Ability to add/edit/delete staff members

Enter a registration deadline

Print a conference schedule for each staff member by date and time
Staff manage appointments
Ability to change password

Select dates and times when available/unavailable for conferences

Print a conference schedule by date and time
Visitors manage their own account
Ability to change password

Register by student first and last name

Select as many staff members as necessary

Select dates and times by teacher availability

Ability to print out a conference report listing all dates, times, and names

Email appointment reminder is sent to parents